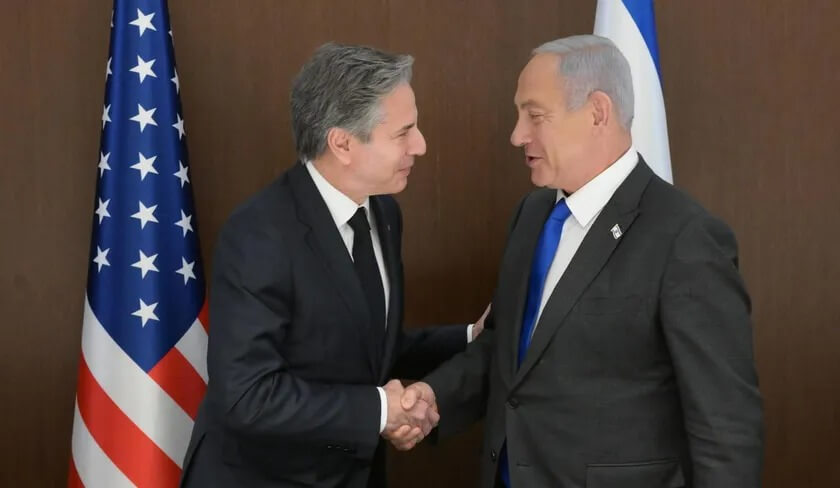 This article originally appeared on Haaretz, and was reprinted here with permission. Sign up here to get Haaretz's free Daily Brief newsletter delivered to your inbox.
U.S. Secretary of State Antony Blinken on Monday vowed to push Israel on the strength of its democracy while speaking alongside Prime Minister Benjamin Netanyahu in Jerusalem, in the Biden administration's strongest remarks on the far-right government's attempts to overhaul Israel's judiciary.
Highlighting Israel and the U.S. shared values, Blinken noted this "includes our support for core democratic principles and institutions, including respect for human rights, the equal administration of justice for all people, rights of minority groups, the rule of law, a free press, a robust civil society."
"The vibrancy of Israel's civil society has been on full display of late," he noted, alluding to the mass protest movements that have dominated the streets of Israel (and by Israeli expats abroad) over the past four weeks.
"The commitment of people in both our countries to make their voices heard, to defend their rights, is one of the unique strengths of our democracies and offers a recognition that building consensus for new proposals is the most effective way to ensure they're embraced and that they endure," Blinken continued.
Blinken noted that "our fellow democracies can also make us stronger. That's what the United States and Israel have done for each other over many decades, by holding ourselves to the mutual standards we've established. And by speaking frankly, and respectfully, as friends do, when we agree and when we do not."
"The discussion that the Prime Minister and I had today was no exception. That conversation will continue, including with other members of Israel's government and civil society, as part of a perpetual process to defend and bolster the pillars of our democracy, which we are both committed to."
The plan being promoted by Netanyahu's justice minister, Yariv Levin, will significantly weaken the ability of Israel's top court to conduct judicial review, and will give the smallest possible parliamentary majority the ability to overrule Supreme Court decisions. The plans have unprecedentedly alarmed American Jewish communal leaders, lawmakers and legal experts. While the Biden administration has initially indicated it would not focus on the issue, which it deemed domestic and not something that would endanger a two-state solution, Blinken's remarks indicate a shifting sense of prioritization for the matter.
Blinken also celebrated the U.S.- Israeli partnership, which Netanyahu said was "one of the most significant in the modern world." Netanyahu and Blinken said they discussed ways to thwart Iran and increased efforts to "expand the circle of peace" between Israel and other Arab states.
Before arriving in Israel, Blinken visited Cairo and met with President Abdel Fattah al-Sissi and other officials, where the two discussed ongoing efforts to de-escalate tensions between Israelis and Palestinians that have soared since last week in what he called "a new and horrifying surge in violence" and prompted severe responses from each.
Speaking on his arrival at Israel's international airport, Blinken said he had come at "a pivotal moment" and condemned Palestinian attacks that have targeted Israeli citizens but also called for restraint in response, saying that all civilian casualties are deplorable.
The post U.S. and Israel ties to remain 'iron clad,' Blinken says in joint statement with Netanyahu appeared first on The Forward.