Was Kyrie Irving ever really sorry?
After NBA star Kyrie Irving served the minimum five games of an indefinite suspension levied by his then-employer, the Brooklyn Nets, for sharing an antisemitic movie, prominent voices around the league pointed to his Instagram apology as reason for his reinstatement.
Three months later, Irving has taken his talents to Texas — and has taken down the apology.
In the aftermath of Irving's trade Sunday to the Dallas Mavericks, NBA reporter Sam Amick noted that the former Brooklyn Net had at some point in recent weeks deleted the Nov. 3 Instagram post in which he stated that the movie "contained some false anti-Semitic statements, narratives, and language that were untrue and offensive to the Jewish Race/Religion" and that he was "deeply sorry."
His apparent retraction reopens a saga that began Oct. 27, when he tweeted an Amazon streaming link to Hebrews to Negroes: Wake Up Black America — which claims the Jewish people faked the Holocaust — as Irving prepares to suit up for his new team. That team sent two starters and three draft picks to Brooklyn for the eight-time all star. Its owner, Mark Cuban, is Jewish.
The deleted post is bound to raise questions about Irving's sincerity, which in the absence of other remedial measures sought by the Nets such as meeting with the Anti-Defamation League, had been touted by Irving defenders as sufficient for reinstatement. Some of those lobbying for Irving's return, such as ESPN basketball analyst Jay Williams, suggested that he was being treated unfairly because of his race.
Among Irving's vocal NBA supporters was Los Angeles Lakers superstar LeBron James, a former Irving teammate, who said in a series of tweets that "Kyrie apologized and he should be able to play. That's what I think. It's that simple. Help him learn — but he should be playing. What he's asked to do to get back on the floor I think is excessive IMO. He's not the person that's being portrayed of him."
James seems also to have hoped to reunite with Irving, who demanded a trade from the Nets last week. After it was announced Irving was headed to the Mavericks, James tweeted, "Maybe It's Me," in a remark widely interpreted as frustration with the Lakers' failure to land Irving.
A Jewish-owned team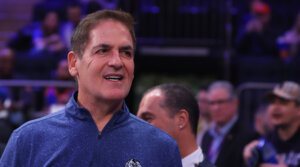 Mark Cuban seen during a game between the Dallas Mavericks and the New York Knicks at Madison Square Garden in New York City, Dec. 3, 2022. Photo by Mike Stobe/Getty Images
The likelihood that Irving would be traded to a franchise with a Jewish owner was nearly a coin flip, with 13 of the 30 NBA teams principally owned by Jewish people. (Brooklyn Nets owner Joe Tsai is not Jewish.) The man who will sign Irving's next paycheck weighed in on the antisemitism controversy during Irving's suspension.
In a podcast released Nov. 10, Cuban said that while he did not think Irving was comparable to torch-waving alt-right protesters in Charlottesville, he "had a lot to learn."
"I don't think Kyrie has got a bad heart, but I think he's definitely not educated about the impact it has" when he posts, Cuban said at the time, adding, "We all make mistakes and we all learn from it and I hope Kyrie does the same thing."
Cuban did not address the controversy in his first public comments following the trade.
It was unclear when Irving deleted the post, which followed his earlier denial that he was promoting the movie by sharing it with his more than 4 million followers and his suggestion that he could not be antisemitic, which came in an after-practice media availability and was followed by a suspension the next day.
Irving posted the apology hours after the suspension was announced. It can still be read in its entirety here.
The post Sorry not sorry: Kyrie Irving deletes apology for sharing antisemitic movie appeared first on The Forward.