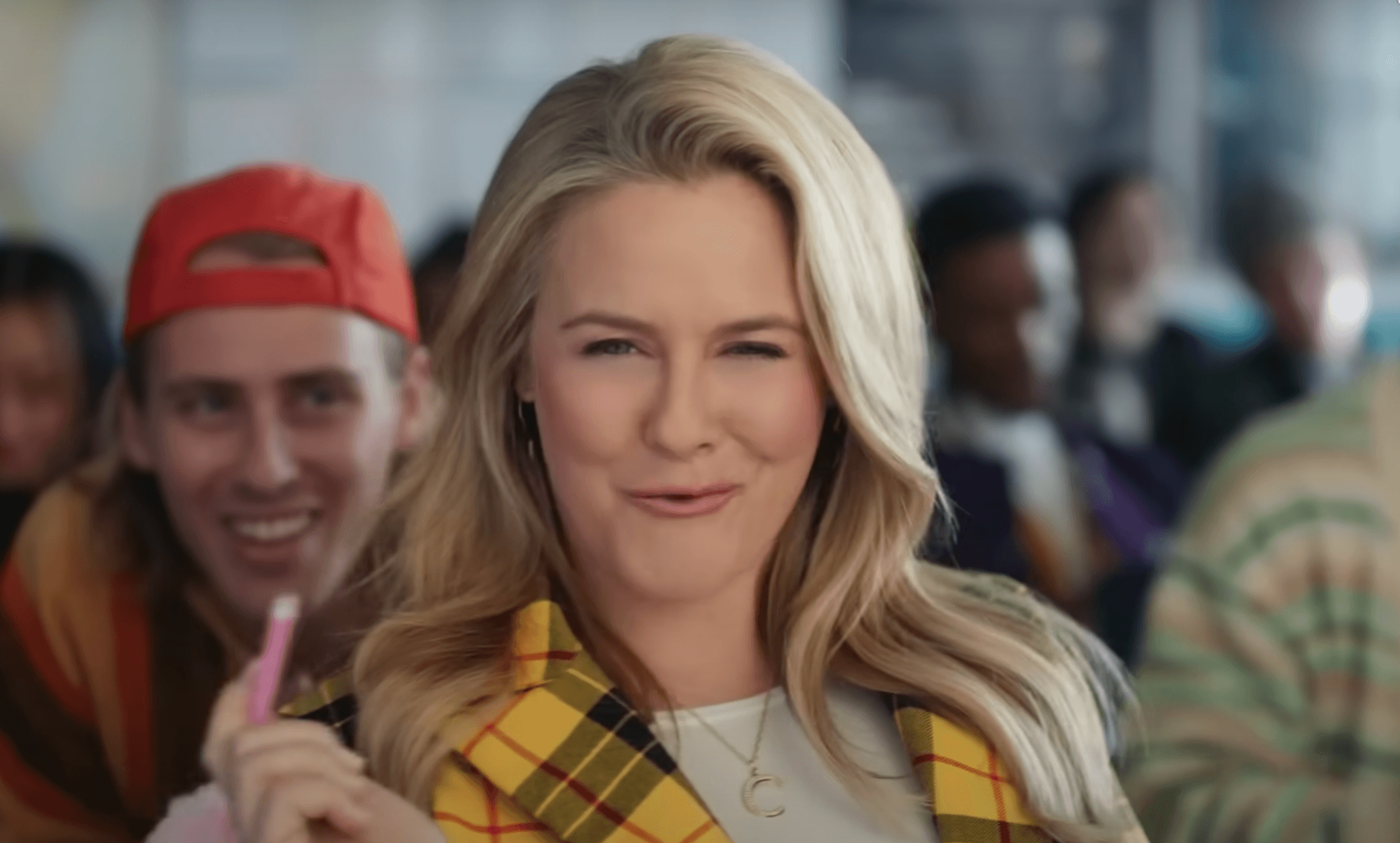 Super Bowl commercials can range from aspirational to flavor-blasted. There are usually chest-thumping displays of patriotism, weepy spots involving Clydesdales and audience-submitted Doritos short films. But could they also hold a clue to eternal youth?
Two commercials in this year's crop of ads involve former Clueless co-stars and perennially ageless movie stars Paul Rudd and Alicia Silverstone. It's not quite the Clueless reunion we've been clamoring for, but in a commercial for Rakuten, Silverstone does reprise her role as the lovably materialistic Cher Horowitz.
In the ad, Silverstone busts out the old yellow plaid and once again debates Elisa Donovan's Amber, this time about the benefits of earning cash during retail therapy sessions. Cher also crashes a car, because, of course. The spot ends with a student, in backwards baseball cap, asking if Cher isn't "a little old for high school." To this she says "What," and winks in our direction.
But the truth is that Silverstone, while no longer able to pass as a high school student, also looks incredible for her age. We may not be completely clueless as to why. While here she's shilling for a Japanese tech conglomerate, we've seen her in previous ads for PETA and she is outspoken about keeping a vegan diet.
Maybe she's born with it — or maybe it's a meat-free lifestyle.
But that doesn't solve the riddle of Paul Rudd, who looks basically exactly the same as he did when he starred as Silverstone's stepbrother/eventual love interest in Clueless. In the recent PR scrum for the soon-to-be-released Ant-Man and the Wasp: Quantamania, the former Sexiest Man Alive let us in on one of his secrets.
When Men's Health asked Rudd what he does to stay fit and (subtextually) looking like there's a moldering portrait in an attic somewhere, he said the main thing he does is get a full eight hours of sleep —  "then diet. Then weights. Then cardio." 
But in his Super Bowl spot, he might be offering another clue. In it, he plays his Scott Lang, aka Ant-Man, taking a break with a Heineken 0.0, a non-alcoholic brew. Might Rudd also be eschewing alcohol? It appears he has in the past to get in shape to be a dude who can shrink down to infinitesimal size. Maybe he kept at it.
So, there you have it. Maybe you can combat the march of time by following their lead.
Or, you could go the Pete Davidson route, noshing on an uber-treyf ham and brie sandwich with Jon Hamm and Brie Larson as he does in this year's Super Bowl commercial for Hellmann's mayonnaise, and look like Pete Davidson.
As if!
The post Do Paul Rudd and Alicia Silverstone's Super Bowl ads hold the key to eternal youth? appeared first on The Forward.