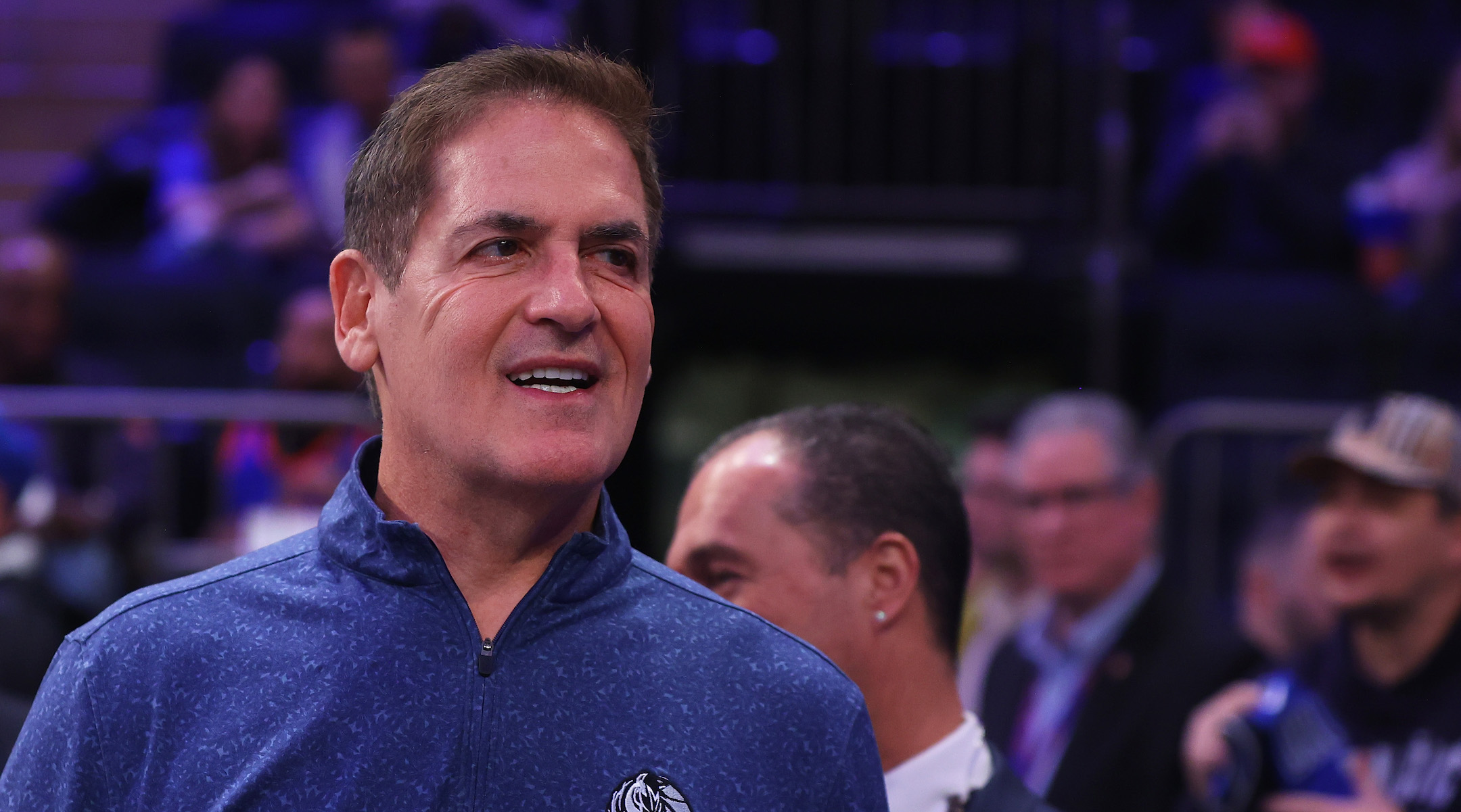 (JTA) — The Brooklyn Nets traded Kyrie Irving to the Dallas Mavericks, a team whose Jewish owner had spoken up about the star guard's antisemitism controversy last year.
Mark Cuban, known as one of the NBA's most outspoken team owners and as a star of the hit TV show "Shark Tank," did not comment on the trade that was the talk of the league on Sunday. But in the fall, after Irving promoted an antisemitic film on his Twitter account and at first refused to apologize for the tweet, Cuban said the eight-time All-Star was "not educated about the impact" of his online platform.
"If there was just some dude on the street corner saying what Kyrie said, or Kanye said," Cuban said in an interview with the RealLyfe Productions YouTube channel, referencing the rapper Kanye West's months-long antisemitism scandal, "you'd just assume they're crazy and keep on walking, right? But when they're a celebrity, you can't do that, because you have a platform."
Cuban, whose paternal grandparents had their last name changed from Chabenisky at Ellis Island after emigrating from Russia, said in the interview that he dealt with antisemitism growing up. He said that he did not think Irving had a "bad heart" in the wake of the scandal.
"I don't think he's one of those guys that would be in Charlottesville marching, chanting 'Jews will not replace us.' I don't think that's him. But I think he's got a lot to learn," Cuban said in the RealLyfe interview.
Irving's promotion of a Black Hebrew Israelite film that made the false claim that Jews dominated the slave trade — and the way he initially defended the move — sent shockwaves beyond the sports world in late October. While an array of public figures and sports commentators immediately called on the Nets to discipline Irving, most of the league's Jewish team owners did not comment on the fallout, and Adam Silver, the league's Jewish commissioner, did not meet with Irving for about two weeks after his tweet.
Cuban more harshly criticized West over his repeated antisemitic statements in the fall, calling the rapper's words "abhorrent" and referencing his mental health struggles.
Some NBA fans pointed out the new Cuban-Irving partnership on Twitter.
Kyrie Irving when he finds out Mark Cuban is Jewish and not Cuban
pic.twitter.com/UxeA4Vrz22

— Nathan T (@TikTikBoom_) February 5, 2023
This article originally appeared on JTA.org.
The post Kyrie Irving traded to Dallas Mavericks, whose Jewish owner Mark Cuban spoke out on antisemitism scandal appeared first on The Forward.