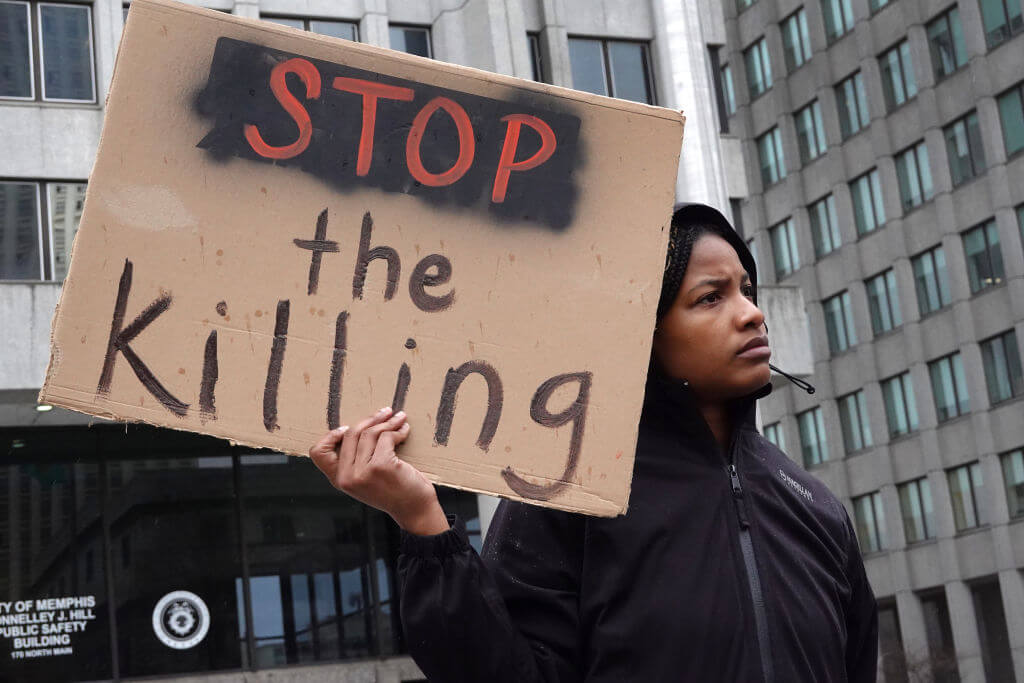 The body cam video shows the encounter starting with police shouting expletives at the subject and yanking him from his car. They follow that by beating him senseless, ignoring his cries for his mother, and taking their time before providing first aid as he ultimately drifts toward death.
If the footage sparking national outrage in the death of Black motorist Tyre Nichols in Memphis seems familiar, it's a near-mirror image of the initial police encounter with George Floyd. And despite whatever police reform or therapeutic hand-wringing the nation has supposedly undergone since then, virtually nothing has changed, especially in the training and recruitment of officers in the first place.
I've written on these incidents for years, from Philando Castile to Floyd to Sandra Bland to names too many of us have already forgotten. The language in my reports is so similar that I may as well save time and outsource the next one to ChatGPT, the artificial intelligence engine, programming it to insert the name of the next victim. Each time, I hear from police officials claiming they've improved the use of force protocols – now ostensibly focused on de-escalation techniques.
But that's obviously crap. And it's not just me saying it.
"Basically nothing has changed," Maria Haberfeld, a professor and chairperson of the Department of Law, Police Science and Criminal Justice at New York's John Jay College of Criminal Justice messaged me on Sunday. "I have been advocating for transformational change in police recruitment and training for over two decades now. Nobody is listening." 
Haberfeld also served in a counter-terrorism unit of the Israeli Defense Forces and was later an Israeli National Police lieutenant. Going back to 2016, we've spoken several times about how officer behavior often impedes crime prevention and effective policing.
"As much as people say it's about protection, the first thing that police officers learn about is the use of force. If things go the way police officers do not want them to go, they can use force," she told me in an article for The Marshall Project.
She went on to identify recruitment of officers – a process that historically has tapped many with go-get-'em cowboy mentalities – as a needed change to achieving a cultural shift among police.
De-escalation protocols adopted by departments in recent years are pointless, Haberfeld said on Sunday, because "the best training will not help to change people with wrong attitudes and underdeveloped emotional and social intelligence."
Of Memphis, she said: "The truth is that each time I see a horrific event like this I am getting more and more discouraged. The constant push for more cops rather than better cops will generate similar images over and over again. I hope somebody with power to change things in a transformational manner will wake up."
Haberfeld added that politicians have pushed for diversity recruitment and implicit bias training as  panaceas to police abuse problems – a belief belied by the fact that the four officers involved in Nichols' beating were Black. 
While I won't argue against increasing racial diversity among police forces that have notoriously been bastions of American segregation, it certainly does no good to recruit Black bullies who specialize in beating up other Black people.
Or frankly, out-of-shape bullies, if the Memphis video is any indication. When Nichols manages to escape after the initial beating and is chased by police, you can hear one officer huffing and puffing for what seems like an eternity afterward. Another keeps asking for douses of water to rinse the errant pepper spray out of his eyes. Great work, Keystone Cops, and more evidence of how splendidly all that revised training for police officers is working out.
I say "officers," by the way, and not "former officers," a phrase that too many of my fellow journalists use inaccurately. Even if rogue cops are fired, that doesn't change the fact that they were cops when they committed the infractions; the "former officer" didn't kill anyone. Similarly, former soldiers do not commit atrocities against civilians, even if eventually drummed out of the army, and in my profession, a reporter fired for plagiarism or making stuff up isn't a former journalist.
More than just semantics, the usage lets police departments off the hook for policies that accommodate and perpetuate bad behavior – such as whatever training results in an officer's first words in an encounter being "Get out of the f-ing car!"
Because it isn't former officers who are saying that, but the ones who are out there now.
The post Former Israeli cop on 'former officers' in Memphis and the failure of police reform appeared first on The Forward.