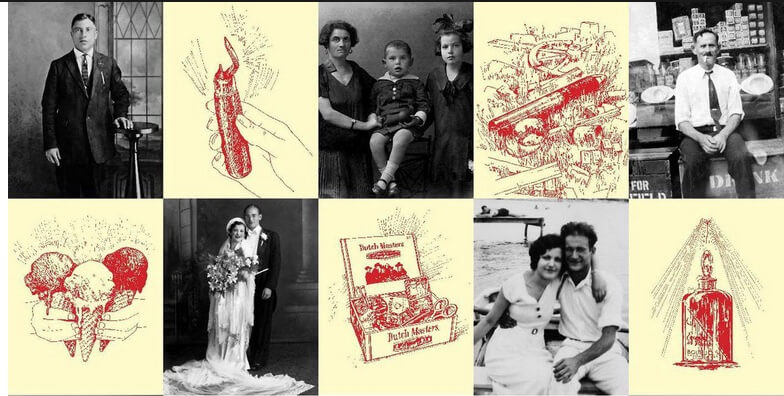 ד״ר ריטשאַרד ראַבינאָװיץ איז באַקאַנט װי אַן אַמעריקאַנער היסטאָריקער, װאָס דערצײלט זײַנע געשיכטעס דורך חפֿצים און ביאָגראַפֿישע פּרטים. דער פֿאָקוס פֿון זײַן אינטערעס איז דאָס טאָג־טעגלעכע לעבן פֿונעם פּראָסטן אַמעריקאַנער בשׂר־ודם. ער האָט מיטגעאַרבעט בײַם מאַכן אױסשטעלונען װעגן עטנישע עדות אין פֿאַרשײדענע טײלן פֿון אַמעריקע, צװישן זײ — דעם טענעמענט־מוזײ אין ניו־יאָרק. איצט, שױן קרובֿ צו אַכציק יאָר אַלט, האָט ער זיך געוואָנדן צו זײַן אײגענער משפּחה־געשיכטע. דאָס בוך "חפֿצים פֿון ליבע און באַדױער" דערצײלט די דאָזיקע געשיכטע דורך עלף פּשוטע חפֿצים, װאָס דינען װי אַ מין װעגװײַזער פֿונעם אַמאָליקן ייִדישן לעבן.
ראַבינאָװיץ איז אַ מײַסטער דערצײלער. ער װעבט אַרײַן די פֿעדעמער פֿון פּריװאַטע משפּחה-זכרונות אינעם ברײטערן לײַװנט פֿון דער אַמעריקאַנער ייִדישער געשיכטע. ער האָט ספּעציעל געפֿאָרשט דעם "ייִחוס" פֿון יעדן חפֿץ, פֿון אַ פֿלעשל פּאַרפֿום, װאָס זײַן טאַטע האָט געגעבן פֿאַר אַ מתּנה זײַן מאַמען װען ער האָט אוכאַזשעװעט נאָך איר, ביזן דײַטשישן האַרמאַטקױל, װאָס זײַן זײדע האָט געפֿונען אין אַ פֿעלד לעבן זײַן פּױלישן שטעטל נאָך דער ערשטער װעלט־מלחמה. ראַבינאָװיץ איז אױפֿגעװאַקסן נאָך דער צװײטער װעלט־מלחמה אינעם ברוקלינער געגנט איסט־ניו־יאָרק. זײַן טאַטע איז געבױרן געװאָרן אין ניו־יאָרק אין 1914 בײַ עלטערן, װאָס זײַנען געקומען פֿון אוקראַיִנע נאָך 1905, בעת זײַן מאַמע איז געבױרן געװאָרן אינעם פּױלישן שטעטל װיסאָקע (װיסאָקע־מאַזאָװעצקיע אױף פּױליש) אין 1916 און געקומען קײן אַמעריקע מיט איר מאַמען אין 1928. די עלטערן האָבן חתונה געהאַט אין 1935. זײער צװײט קינד, ריטשאַרד, איז געבױרן געװאָרן אין 1945.
ראַבינאָװיצעס משפּחה־געשיכטע איז טיפּיש פֿאַר צענדליקער טױזנטער ייִדישע אימיגראַנטן פֿון מזרח־אײראָפּע. דער עלטערער דור, זײַן באָבע־זײדעס, האָבן שװער געהאָרעװעט פֿאַר אַ שטיקל ברױט. ברוך, דער זײדע פֿונעם טאַטנס צד, האָט פֿאַרבראַכט זײַנע יונגע יאָרן צװישן דער אָדעסער אונטערװעלט, געדינט אין דער רוסישער אַרמײ בעת דער מלחמה מיט יאַפּאַן און פֿון דאַנען איז אַנטלאָפֿן קײן אַמעריקע. ער געװען צו גראָב פֿאַר דער מער אײדעלער פּױלישער משפּחה פֿון זײַן זונס כּלה, שׂרה שװאַרץ. מען האָט אים אַפֿילו ניט אײַנגעלאַדן אױף זײַן זונס חתונה. ריטשאַרדס טאַטע האָט ניט באַקומען קײן שול־דיפּלאָם. ערשט בעת דער צװײטער װעלט־מלחמה האָט ער באַװיזן אױסצולערנען די מלאָכה פֿון עלעקטרישן טעכניקער און באַקומען אַן אַרבעט אין מיליטערישער שיפֿבױערײַ. דאָס רובֿ קרובֿים האָבן געהאַט טראַדיציאָנעלע ייִדישע פּרנסות׃ שנײַדערײַ, פּעדלערײַ, מעקלערײַ. ריטשאַרד אַליין האָט אָבער געהאַט אַ גרעסערן דערפֿאָלג. ער האָט שטודירט אין האַרװאַרד־אוניװערסיטעט און געמאַכט אַ דאָקטאָראַט אױף געשיכטע.
די ייִדישע שטוב איז געװען דאָס מלכות פֿון פֿרױען. זײַן פּױלישע באָבע שײנדל און די מאַמע שׂרה זײַנען געװען די "באַלעבוסטעס". ראַבינאָװיץ שרײַבט דאָס װאָרט אױף ענגליש אינעם פּױליש-ייִדישן אַרױסרײד, װי ער האָט עס געהערט אין דער הײם. װי עס טרעפֿט אָפֿט אין אַזעלכע משפּחה־געשיכטעס, האָבן די מענער געהאַט אַ קנאַפּן מזל מיט געפֿינען זײער אָרט אין דעם נײַעם לאַנד. זײ האָבן געפֿעלט נײטיקע קענטענישן און געניטשאַפֿט, כּדי צו געפֿינען אַ גוטע אַרבעט מחוץ די גרענעצן פֿונעם ייִדישן "געטאָ" פֿונעם איסט־סײַד אָדער ברוקלין. די עקאָנאָמישע אומזיכערקײט האָט בײַ זיי גורם געװען אַ שיפֿלות־קאָמלעקס.
אָבער סך־הכּל מאָלט דאָס בוך אַ טיפּישע אַמעריקאַנער דערפֿאָלג־געשיכטע. די עלטערן האָבן ניט געהאַט קײן חשק צו רעדן װעגן דער אַלטער הײם, בפֿרט נאָכן חורבן. פֿאַר זײ האָט די מלחמה געעפֿנט נײַע עקאָנאָמישע מעגלעכקײטן אין דער מיליטער־אינדוסטריע. נאָך דעם איז זײער װױלשטאַנד געגאַנגען באַרג־אַרױף. זײ האָבן געקױפֿט אַ הױז און אַן אױטאָ, און אױף פּענסיע זײַנען זײ אַװעק קײן פֿלאָרידע װוּ זײ בײדע האָבן געלעבט ביז קנאַפּע הונדערט יאָר.
אַ היפּשע צאָל ייִדן פֿונעם צװײטן און דריטן דור אין אַמעריקע נעמען זיך אױפֿן עלטער פֿאַר פֿאַרפֿאַסן משפּחה־געשיכטעס. צװישן די ביכער פֿונעם דאָזיקן זשאַנער, װאָס זײַנען אַרױס אין די לעצטע יאָרן, איז "חפֿצים פֿון ליבע און באַדױער" אײנע פֿון די בעסטע, סײַ פֿונעם ליטעראַרישן און סײַ פֿונעם פֿאָרשערישן שטאַנדפּונקט. ראַבינאָװיץ ברענגט קונציק צונױף זײַנע גרונדיקע קענטענישן אין דער אַמעריקאַנער געשיכטע מיט זײַן פּערזענלעכער דערפֿאַרונג פֿון אױפֿװאַקסן אין דער מיטלשטאַנדיקער ייִדישער געגנט אין ברוקלין. ער קען נעמען אַ פּשוטע טשאַטשקע, װי למשל אַ פֿלעשל־עפֿענער, און אויף דעם סמך אויסטראַכטן אַ גאַנצע מעשׂה וועגן דער ראָלע וואָס פֿאַרשײדענע קיך־כּלים האָבן געהאַט אין זײַן משפּחה־לעבן.
צום סוף ברענגט דער מחבר אַ ניצלעכע ביבליאָגראַפֿישע רשימה פֿאַר די לײענער, װאָס װילן זיך אַרײַנטיפֿן אין דעם ענין פֿון זײערע אײגענע משפּחה־פֿאָרשונגען. דאָ געפֿינט מען אַ סך װיכטיקע היסטאָרישע שטודיעס און מקורים. עס איז דאָ אָבער אײן בלױז׃ די ייִדישע ליטעראַטור. ראַבנאָװיץ דערמאָנט אַװדאי, אַז זײַנע פּױלישע באָבע־זײדע האָבן גערעדט ייִדיש. די באָבע האָט געלײענט די קאָמוניסטישע "מאָרגן־פֿרײַהײט", בעת דער זײדע האָט ליב געהאַט דעם ליבעראַלן "טאָג" (קײנער אין זײַן משפּחה האָט ניט געלײענט דעם 'פֿאָרװערטס"). די צװײטע באָבע זײַנע, װאָס איז געקומען קײן אַמעריקע פֿריִער, האָט באַשטאַנען, מען זאָל בײַ איר איר שטוב רעדן רק ענגליש. דאָ און דאָרט װאַרפֿט ראַבינאָװיץ אַרײַן ייִדישע װערטער. פֿאַר זײַן פֿאָרשונג האָט ער גענוצט דעם יזכּור-בוך פֿון װיסאָקע מיט דער הילף פֿון ייִדיש־קענער.
אָבער ייִדיש פֿעלט אין ראַבינאָװיצעס בוך װי אַ קולטורעלער באַשטאַנדטײל פֿונעם אַמעריקאַנער ייִדישן לעבן. די װערק פֿון אַמעריקאַנער ייִדישע שרײַבער װי יוסף אָפּאַטאָשו, לעאָן קאָברין, שלום אַש, כאַװער־פּאַװער און אַנדערע װאָלטן געגעבן אַ רײַכן שטאָף פֿאַרן אילוסטרירן זײַן משפּחה־געשיכטע. אין די פֿילצאָליקע ראָמאַנען און דערצײלונגען פֿון אַמעריקאַנער ייִדישער שרײַבער געפֿינט מען פּרטימדיקע שילדערונגען פֿון פֿאַרשײדענע ניו־יאָרקער ייִדישע געגנטן, גאַסן, הײַזער, דירות, געשעפֿטן, און דער עיקר, מענטשלעכע טיפּן. אין די לעצטע יאָרן האַלט דער אינטערעס צו דער אַמעריקאַנער ייִדישער ליטעראַטור אין אײן װאַקסן. עס זײַנען אַרױס אַ צאָל גוטע ענגלישע איבערזעצונגען, אָבער צום באַדױערן פֿאַרבלײַבט אָט די רײַכע ירושה עד־היום מחוץ דעם קולטורעלן האָריזאָנט פֿון דער הײַנטיקער אַמעריקאַנער ייִדישער קולטור.
The post Everyday objects tell a Jewish family's history appeared first on The Forward.