The Biden administration distributed "Black Resistance" flyers to U.S. Border Patrol agents that celebrated the Black Lives Matter movement and anti-American activist Colin Kaepernick, causing a stir among officers who criticized the agency's promotion of groups that hate law enforcement.
The agency circulated a poster that features the words #BlackPower, #BlackLivesMatter, and "Abolitionist," as well as watermarked images of Rep. Maxine Waters (D., Calif.) and Kaepernick, according to a copy of the flyer obtained by Townhall. The flyer infuriated officers, who say the agency is promoting people who "hate" them.
"BLM hates us, so does Maxine Waters," one officer told the outlet. "Kaepernick hates us. They're anti-police advocates against the nation's largest police agency."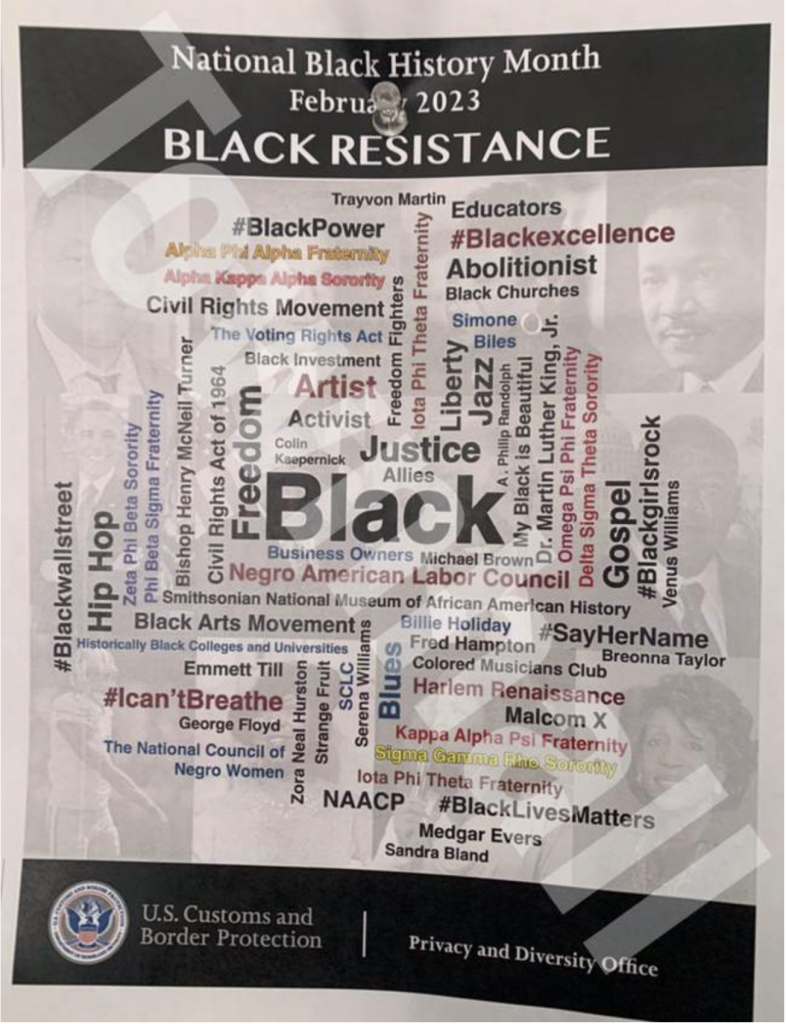 Townhall
The flyer was sent as the agency battles a migrant crisis on both borders. On the southern border, more migrants were processed in December than ever before—251,487 in total. Nearly 600,000 "got aways" were reported in fiscal year 2022. On the northern border, agents have seen a massive spike in illegal entries. Agents in New York, New Hampshire, and Vermont saw a 743 percent increase in migrant encounters between October and December compared with the same time period in 2021.
Agents, who frequently say they're overwhelmed by the stream of immigrants to the border, were told to "participate in local Diversity and Inclusion Program Committee activities at headquarters and various field offices in honor of National Black History Month," Townhall reported.
More than five million migrants have crossed into the United States since Biden took office, the largest number in history. Former president Barack Obama's Homeland Security secretary said the problem under Biden is "much bigger" than at any point during the Obama administration.
Black Lives Matter said in a 2021 statement that the CBP is "rooted in white supremacy and a history of slave-catching."
The post Biden Admin Distributes 'Black Resistance' Flyers to Border Agents appeared first on Washington Free Beacon.