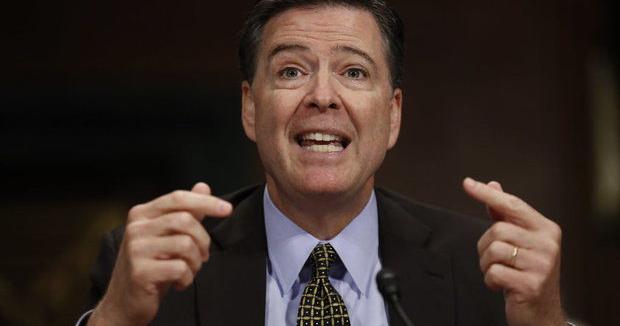 The FBI is planning to clarify testimony its director gave to Congress last week about how classified information got from then-Secretary of State Hillary Clinton's private email server to the laptop of the disgraced former Congressman Anthony Weiner, several news agencies are now reporting.
FBI Director James Comey told the Senate Judiciary Committee that Clinton's top aide Huma Abedin had "forwarded hundreds and thousands of emails, some of which contain classified information" to Weiner, who was then her husband.
"Somehow, her emails were being forwarded to Anthony Weiner, including classified information," Comey told the Senate Judiciary Committee. "His then-spouse Huma Abedin appears to have had a regular practice of forwarding emails to him for him to print out for her so she could deliver them to the secretary of state."
While some of the emails were forwarded, the FBI plans to tell Congress that it is likely that the vast majority were instead backed up to Weiner's laptop, according to The New York Times.
The Times says the FBI "found that two emails that Ms. Abedin forwarded to Mr. Weiner contained classified information. Ten other emails that were backed up on Mr. Weiner's laptop contained classified information."
Weiner, who resigned from Congress and submarined his campaign for mayor of New York in separate sexting scandals, is under FBI investigation for allegedly sending illicit text messages to a 15-year-old girl. Weiner and Abedin separated last August.
The investigative website ProPublica was the first to report the FBI's reversal.
"FBI officials have privately acknowledged that Comey misstated what Abedin did and what the FBI investigators found," ProPublica reported. "On Monday, the FBI was said to be preparing to correct the record by sending a letter to Congress later this week."
ProPublica noted that Comey's testimony created a media stir: "The New York Post plastered its story on the front page with a photo of an underwear-clad Weiner and the headline: 'HARD COPY: Huma sent Weiner classified Hillary emails to print out.' The Daily News went with a similar front-page screamer: 'HUMA ERROR: Sent classified emails to sext maniac Weiner.'"
The headline on my column last Thursday (May 4) was tame by comparison: "Clinton's classified emails went to Weiner. Let that sink in: Opinion."
No explanation has been offered so far on why Comey was so far off in his numbers or the details of how the emails ended up on Weiner's computer.
The fact remains that the emails were mishandled, but apparently nowhere near the levels that Comey said.
Tim Morris is an opinions columnist at NOLA.com | The Times-Picayune. He can be reached at tmorris@nola.com. Follow him on Twitter @tmorris504.