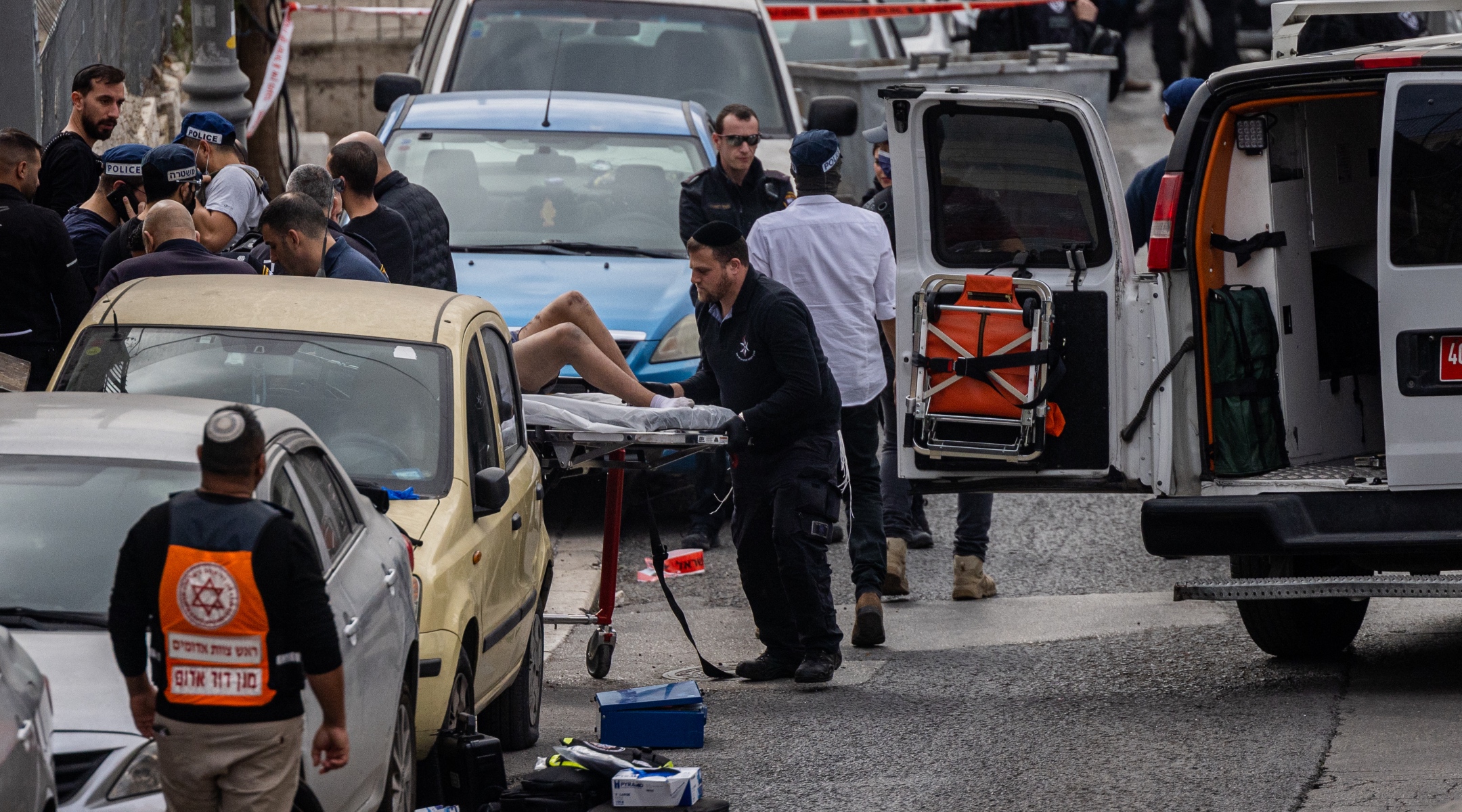 (JTA) — A 13-year-old Palestinian boy shot and wounded an Israeli man and his son outside Jerusalem's Old City walls, police said, in one of multiple incidents over the weekend during the latest incident in an escalation of Israeli-Palestinian violence.
The shooting took place in the City of David neighborhood on Saturday, the day after a Palestinian shooter killed seven Jews outside a synagogue in an eastern Jerusalem neighborhood. The alleged assailant, who is from the neighboring village of Silwan, was wounded himself when the younger victim, an off-duty soldier carrying his weapon, returned fire.
Israeli officials said they would "seal" the boy's home, a first step in Israel's typical home-demolition penalty for those alleged to be responsible for deadly terror attacks. Itamar Ben-Gvir, the national security minister who favors harsh penalties for Palestinians who engage in violence, said the government would seek to expand the home-demolition policy to include those whose attacks did not result in fatalities.
The policy change is one of several that the government said it would make after a Palestinian assailant killed seven people Friday in an attack outside a synagogue in the eastern Jerusalem neighborhood of Neve Yaakov. The day before, Israeli troops killed at least 10 people, among them at least two civilians, in a raid in the northern West Bank city of Jenin.
In addition to expanding the use of the home-demolition penalty, the right-wing government led by Prime Minister Benjamin Netanyahu will also seek to increase the number of firearms permits available to Israelis and to heighten penalties for the family members of people who engage in terror, including by denying them the right to live in Israel, Netanyahu said on Sunday.
Palestinian militant groups had vowed to retaliate after the raid in Jenin, which Israel said preempted a major terror attack. Also on Saturday, security forces at the Kedumim settlement in the West Bank killed a Palestinian man who they said had a gun, and a Palestinian man attempted to fire on a restaurant in the West Bank. On Sunday, Israeli troops said they killed a man who was trying to enter the country from Syria.
Meanwhile, cars and a house were burned in a Palestinian village in the West Bank in suspected revenge attacks by Israelis. Violent attacks by Jewish settlers against Palestinians in the West Bank have skyrocketed in recent years.
The incidents come just days ahead of visits to the region by top U.S. officials, including Secretary of State Antony Blinken and CIA chief Bill Burns. Burns' trip was hastily planned in response to the raid in Jenin and the vows of retaliation by Palestinian militant groups.
Also on Saturday, Israel revealed the identities of the seven people murdered outside a building being used as a synagogue in Neve Yaakov, a "ring neighborhood" in eastern Jerusalem. They include a 14-year-old boy; a married couple where the wife was declared dead at the hospital where she worked; a Ukrainian woman who worked as a caretaker; and a man who had a grandson born in California hours after the attack.
This article originally appeared on JTA.org.
The post 13-year-old Palestinian shoots 2 in Jerusalem as violence flares and government flexes appeared first on The Forward.